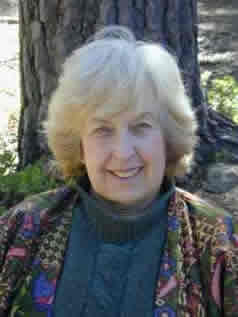 1941 – 2009
See Lemurian Talks by Aurelia Louise Jones Here
          Aurelia Louise Jones was born in Montreal in a French Canadian family in the early 40s. She graduated as a nurse in the early part of her working career, and also worked as a Spiritual and Health Counselor most of her adult life, as a naturopath and a homeopath, using several holistic modalities. She also included in her practice holistic animal care and consulting, using nutrition, homeopathy, flower essences and several other natural healing modalities. She moved to the U.S. in 1989.
          Under the sponsorship of the Brotherhood of Light and the order of Melchizedek, she was ordained as a minister in 1998, and had been devoting much of her time to the spiritual ministry up until her return to Spirit . She was also a spiritual teacher of higher consciousness principles leading to the Ascension process.
          While living in Montana in 1997, she received direct guidance from Adama, and the Lemurian Council of Light of Telos to move to Mount Shasta to be prepared for a mission with them that would eventually become the major aspect of her life's work. She moved to Mount Shasta one year later in June 1998.
          She was the founder and owner of Mount Shasta Light Publishing and The Lemurian Connection Newsletter. Victoria Lee, her former Assistant, is now carrying on her glorious work. At the request of Lady Quan Yin, Aurelia Louise channeled through her cat Angelo a touching message from the animal kingdom, now in a book called: Angelo's Message to the World. Angelo was her favorite cat who has incarnated to be with her once again in order to bring his message on behalf of the animal kingdom, regarding the treatment of animals on this planet.
          She  published three books about Telos and the Lemurian teachings that are now published in French, English, Spanish, Hebrew, Romanian, Portuguese, German, Romanian and Japanese.
The names of the books are:
* Telos, Volume 1 – Revelations of the New Lemuria
* Telos, Volume 2 – Teachings for the Enlightenment of Humanity in Transformation
* Telos, Volume 3 – Protocols of Fifth Dimension
* Effects of Recreational Drugs on Spiritual Development – a booklet of 40 pages describing very concisely the consequences for the souls who indulge in the illusion of addictions, especially the ones of the drug culture.
* Angelo's Message – A touching message from the Animal Kingdom
New publications in 2007
                                   The Seven Sacred Flames – Hard cover, full color book with 16 color graphics. 280 pages – a very high quality and elegant book.
The Ascension Flame of Purification and Immortality
Prayers to the Seven Sacred Flames
          At this time especially, these books are very important tools for the understanding of the future of this planet and for the understanding of how life was really meant to be lived here, and how we can change our present reality to a far better world by creating the consciousness of an enlightened civilization.
          Aurelia Louise also channels Adama, the high priest of the Lemurian city of Telos as well as other spiritual masters of Light as part of her mission. She holds Lemurian events in the Mount Shasta area once or twice a year, and facilitates initiatic journeys in the Mount Shasta area in the summer time. Since 2002, she has been holding conferences and workshops in various countries of the world, especially in Canada, especially in Quebec. Several times, she has given conferences and workshops in various parts of Europe such as France, Belgium, Switzerland, Spain and the French Polynesian Islands.
To purchase a book, CD or photo from Telos-Australia, click here, and be prepared for a most wondrous revelation !